---
This trip is a 2 day trail running tour on Mt. Fuji and the beautiful mountains surrounding Kawaguchiko. It is a joint tour with Avid Adventures and Adventure Divas (our Japanese adventure tour company) and is one of our most popular trips. 
Incredible views of Mt. Fuji
Mt. Fuji 5th station (2305m) - half way up Mt. Fuji
Long, uninterrupted single track trails through beautiful forest (100% off road) 
Private shuttle bus to all trail heads
Hot springs each day
BBQ dinner with great food!
---
Lake Kawaguchiko is one of the five lakes at the foothills of Fuji and is surrounded by beautiful mountains including the Aokigahara Jukai Forest. Given its close proximity to Mt. Fuji, the trail running and hiking courses in this area are renowned for their magnificent views of Mt. Fuji. 
Day 1:  Experience the FLOW - Mt. Mitsutouge Trail Run
On Day 1, our shuttle bus will drop us off at the Mitsutouge trail head. From there, it's about a 2 hour climb up to the top of Mt. Mitsutouge which overlooks Kawaguchiko and is famous for its expansive views of Mt. Fuji. The views are so breathtaking in fact, that the mountain is considered one of Japan's "top 10" Mt. Fuji viewing points! 
However, the views aren't the only amazing things about this mountain. From the top of this mountain, there is a long, smooth, uninterrupted, 100% off-road single track trail that descends down the mountain and is, in our opinion, one of the best downhill runs in Japan. It's the type of trail where as you run through the forest, you'll be able to experience the much desired flow that makes trail running so incredible.
Day 2:  Run down the side of Mt. Fuji - Mt. Fuji Downhill Trail Run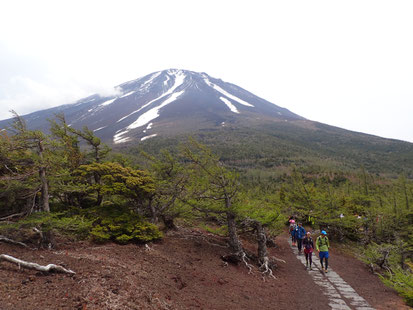 On Day 2, we will be dropped off at the "5th station" on Mt. Fuji at the Yoshida trailhead at an elevation of 2305m. This is where most hikers start their hike up to the top of Mt. Fuji (3776m) during the summer season (the hiking trail is only open from  July 1 - Sept 10) but for us, this is where we'll start our Mt. Fuji downhill trail run.
The first section is a short traverse above the tree line along a volcanic rock trail. The clouds below and the summit of Mt. Fuji looming above will impress upon you the absolute enormity of Mt. Fuji.  After reaching Okuniwa, we will begin our long descent though the ancient forests of Mt. Fuji. This incredible trail literally runs down the side of Mt. Fuji from an elevation of 2300m right to the very bottom of Mt. Fuji near Shojiko Lake (910m) and will reveal the true breadth and diverseness of Mt. Fuji.
Each trail run will be about 5 hours, including rest stops along the way to eat, drink and take lots of photos! 
HOTSPRINGS
We will be stopping at a hot springs "onsen" after each run. In particular, the popular Yurari Hot Springs we'll be going to on the second day has a multitude of enticing baths including an open air bath with views of Mt. Fuji, a cave bath, steam bath, aromatherapy bath, carbonated spring bath, sacred peak spring water bath, saunas etc. (https://www.fuji-yurari.jp/).
BBQ DINNER
On Saturday evening, we have a Japanese style BBQ planned so that we can eat, drink and get plenty of rest for the next day's run!
---
Saturday, June 1 - Sunday, June 2, 2019 (2 Days)
Date & Time:  Meet on Sat. June 1, 2019 at 9:30 am (we will be there from 9:00am)
Location:  Kawaguchiko Train Station (Fujikyuko Line)
We will meet at Bus Stop #10 behind the brown train exhibit just outside the train station (turn right after you exit the station). The brown train is just past the Kawaguchiko Tourist Office.
Address:  3641 Funatsu, Fujikawaguchiko, Minamitsuru-gun, Yamanashi Prefecture, 401-0301
Map:  https://goo.gl/maps/zF9U4pZAWfP1kPE5A
If you are arriving into Kawaguchiko on Saturday morning, you should take the following buses/trains in order to make it on time. 
By Highway Express Bus from Shinjuku (Tokyo):
6:45 Depart Shinjuku Bus Terminal  --> 8:30 Arrive Kawaguchiko train station (Keio Bus - headed to Kawaguchiko Station)
or
7:15 Depart Shinjuku Bus Terminal  --> 9:00 Arrive Kawaguchiko train station (Keio Bus) - headed to Yamanakako Asahigaoka)
By Train from Shinjuku (Tokyo):
7:03 Depart Shinjuku --> 8:01 Arrive Otsuki train station (JR Rapid Train #173 Kaiji) --> transfer trains --> 8:18 Depart Otsuki --> 9:17 Arrive Kawaguchiko train station (Fujikyuko Express train) 
Another option is to arrive into Kawaguchiko on Friday. Buses and trains run frequently between Tokyo and Kawaguchiko from early morning until late at night. If you have any questions, please feel free to contact us so that we can assist you in figuring out your schedule. We can also help you reserve an extra night at Hotel & Restaurant Yesterday if you're coming in early.
--> Check the Getting There section for directions to/from Kawaguchiko and other useful travel information. 
---
DAY 1
Meet at Kawaguchiko train station (*1)
Shuttle bus to Mitsutouge trail head
Mt. Mitsutouge Trail Run (approx. 14km) 
Kaiun-no-yu Hot Springs
Shuttle bus back to hotel
BBQ dinner at Hotel Yesterday
(*1) Please change into your trail running clothes & shoes at the train station as we will be starting from there. There are public restrooms at the train station where you can get changed. You can leave your luggage with Avid and we will transport it to the hotel for you.
DAY 2
Breakfast at Hotel Yesterday
Shuttle bus up to Mt. Fuji 5th station (*2)
Mt. Fuji Downhill Trail Run (approx. 18km)
Yurari Fuji View Hot springs
Shuttle bus to Kawaguchiko train station (There is a free shuttle bus run by Yurari hot springs that departs every hour. The bus ride from the hot springs to Kawaguchiko station is about 15 minutes.)
(*2) You can leave all your luggage at the hotel. We will transport them to the Yurari Fuji View Hot Springs for you. We plan to finish the trail run and arrive at the hot springs by approximately 16:00 
Experience/Difficulty Level:  The trail running courses are not difficult but you should be physically fit enough to run about 15 km each day for 2 days.  Each trail run should take about 5 hours at a slow to moderate pace with rests along the way to eat, drink and enjoy the incredible views of Mt. Fuji! Depending on the terrain (e.g. uphills) we will walk instead of run and run instead of walk (e.g. downhills)!
Pace:  Depending on the participants, the group will be split up by pace (faster pace and slower pace) so that you can run at your own pace and not feel rushed or worried as to whether you can keep up. Each group will be led and supported by our experienced trail running guides.
We are an experienced team that has been organizing and leading trail running, hiking and backpacking tours in Japan for over 10 years.
Harry Ohara - Avid Adventures & Adventure Divas, Director
Pauline Kitamura - Adventures Divas, Director & Tour Leader
Hiroshi Kimura - Trail Running Guide
Trail running backpack (10-20L) 
Trail running shoes
Water (1.5-2L) or sports drink
Rain jacket & rain pants
Light wind shell/jacket
Warm clothing (e.g. fleece jacket)
Cap
Lunch & snacks
Headlamp with spare batteries
Smartphone/mobile phone
First aid kit
Sunblock
For after the trail run:
Change of clothes & shoes/sandals
Towel (for the hot springs)
Warm jacket (eg. fleece or down) - for evening BBQ
Toiletries
Trail running backpack (Paago Works 12L or UltraSpire 10L):    JPY  500/day (JPY 1000 for 2 days)
Headlamp (including spare batteries):   JPY 300/day  (JPY 600 for 2 days)
---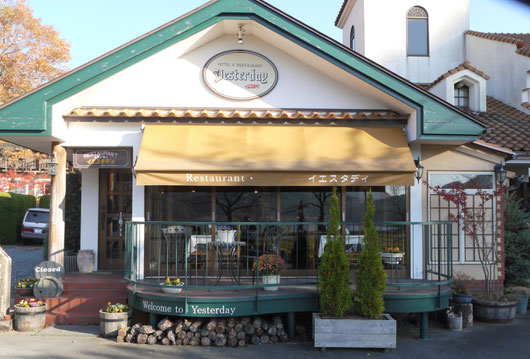 We will be staying at a lovely hotel located right by the lake. The owners (Toshi & Fumie) are trail runners as well and were in charge of the A5 Katsuyama Aid Station during the UTMF (Ultra-Trail Mt. Fuji) trail race! The hotel is well known for it's excellent food including homemade baked bread in the morning.
Hotel & Restaurant YESTERDAY
3739 Katsuyama, Fuji-Kawaguchiko, Yamanashi Prefecture
Tel: 0555-83-2481    http://www.kawaguchiko-yesterday.com/
Avid Special Rate:  JPY 7,500/night per person.
Rooms will be shared with 2 - 3 people from our group (same gender rooms). Accommodation cost is not included in the tour price. Please pay hotel directly upon check-in (cash only, no credit cards).
BBQ dinner and breakfast is included in the accommodation price.
Please bring your own lunch and snacks to eat during the trail runs. (You can bring them from home or purchase them at a convenience store each day. On Day 1, there is a convenience store right near the train station. On Day 2, we will stop by a convenience store before heading up Mt. Fuji.)
---
JPY 16,000 (including tax)
What's included:
- shuttle to trailheads
- BBQ dinner (Day 1) & breakfast (Day 2) 
- trail guide fees
- Japanese insurance (see below)
What's not included:
- accommodations (please pay hotel directly upon check-in. JPY 7,500/night per person)
- lunch & snacks
- hot springs fees (Day 1 - Kaiun-no-yu JPY 1,000, Day 2 - Yurari Hot Springs JPY 1,300)
- alcoholic beverages during meals
- transportation to/from Tokyo to Kawaguchiko train station
---
Japanese medical insurance is included in the tour cost, however if you are coming from overseas, we require you to enroll in an overseas travel insurance plan that will cover you for the duration of the tour. The coverage provided by our Japanese insurance plan (click here for details) is geared towards residents of Japan who already have Japanese Health Insurance (kenkou hoken) and may not be sufficient for participants coming from overseas.
Here are a few insurance options if you're coming from outside of Japan:
ITRA (International Trail Running Association):  https://itra.run/page/353/Insurance.html
Global Rescue:  https://www.globalrescue.com/
In case you have to cancel after signing up for the tour, the following cancellation rates will be applied. All cancellations are subject to an administration charge of JPY 2500.
100% refund - 4 days before tour start date
80% refund - 2-3 days before tour start date
50% refund - 1 day before tour start date
0% refund - no show
For example, if you cancel on May 28 (4 days before), you will receive a 100% refund less an admin charge of JPY 2500.
Refunds will be processed by credit card fee reversal or by PayPal payment.
---