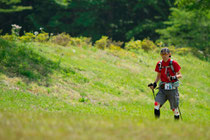 Once you've successfully registered for the race, the first thing you'll probably want to do is book your flights!! Here's some useful information about travelling to Japan and getting to the UTMF/STY start line.
---
Narita International Airport and Haneda Airport are two major international airports in Japan. Most of you will most likely be flying in from one of these airports. 
Narita International Airport (about 1 hour from Tokyo) is Japan's main international airport with flights coming in from all over the world.

Haneda Airport (about 40 minutes into Tokyo) is a smaller airport with convenient direct flights from Asia and Europe.

Other international airports:

Kansai International Airport

Mt. Fuji Shizuoka Airport is a small local airport with flights from Seoul and Shanghai

Central Japan International Airport (Nagoya) is a small local airport with some flights from Asia and Europe
These airports (Kansai, Shizuoka, Nagoya) are not recommended as you'll have to take an expensive bullet train ride or another flight into Tokyo to get to Kawaguchiko.
---
ARRIVAL
For the UTMF, we highly recommend that you arrive into Kawaguchiko by
Wed, Sept. 21 (at least two days before the race) and for the STY, by Wed, Sept. 21 or Thur, Sept. 22 so that you can familiarize yourself with the area, get used to the climate and recover from any jet lag before the race. It'll also be much quicker and easier to complete your racer check-in and mandatory equipment check the day before the race.
DEPARTURE

For both the UTMF and STY, we also recommend that you stay on Sun, Sept. 25 (the night after the race). From our experience, after running 80K or 160K, you'll probably want to take a bath, eat a good meal and get some well deserved rest after the race. (As opposed to spending hours on a bus to get back to Tokyo during the weekend rush hour traffic.) You could then checkout on Mon, Sept. 26 or if you prefer, spend a few extra days exploring the Mt. Fuji area!

---
Kawaguchiko is a popular destination for overseas tourists and there are many convenient transportation options.
FROM NARITA AIRPORT:
Option #1:  By Train
                    Narita - Tokyo Station (Narita Express, 60min. JPY 3020)
                    Tokyo Station -  Ohtsuki Station (JR, 80-100min. JPY 1490 or JPY 2420 for Express)
                    Ohtsuki Station - Kawaguchiko Station (Fujikyu Railway, 55min. JPY 1140)
Takes approx. 3.5h & JPY 6000 with 2-3 transits.
Relatively frequent service available from early in the morning until late at night.
Option #2:  By Train & Bus
                    Narita - Shinjuku Station (Narita Express,  80min. JPY3190)
                    Shinjuku Station - Kawaguchiko Station (Highway Bus, 110min. JPY 1750)
Takes approx. 3h+ & JPY 4940
Narita Express: 25 trains & Highway buses: 20-25 per day
See "How do I get to the Shinjuku Highway Bus Terminal" FAQ below for highway bus info.
Option #3:  By Train & Bus
                    Narita - Nippori Station (Keisei Skyliner, 40min. JPY2470)
                    Nippori Station - Shinjuku Station (JR Yamanote, 20min. JPY200)
                    Shinjuku Station - Kawaguchiko Station (Highway Bus, 110min. JPY1750)
Takes approx. 3h & JPY 4420
Recommended if you are familiar with the Tokyo area.
While Option #3 is the least expensive and relatively quick, but the transits might be a little bit stressful especially if you're hauling around large luggage with you!
It is also possible to combine these three options, and depending on your situation, there are many other options available as well.
FROM HANEDA AIRPORT:
If you fly into Haneda Airport, the easiest way to get to Kawaguchiko is to take a highway bus directly from Haneda.  (Haneda - Kawaguchiko Station (Highway Bus, 110min. JPY 2470))
Very smooth and stress-free access
But only 3-4 trips each day
If the above bus schedule doesn't work well with your flight schedule, it would be best to take a bus or train into Tokyo Station or Shinjuku Station. Once you've made your way to one of these train stations, refer to the above options 1 - 3  to make your way to Kawaguchiko.
Here are some useful train/bus websites to plan your trip - Useful Links
---
2016/4/12 UPDATE
A new bus terminal in Shinjuku just opened on April 4th!
We've updated the following FAQ below to reflect this.
A brand new bus terminal in Shinjuku just opened on April 2016.
The terminal is called "Shinjuku Express Bus Terminal (Shinjuku Basta)", and is located only a couple of minutes from the Shinjuku train station. This has made it very convenient to take highway buses going out of Tokyo. (Those who found it difficult to get to the old Shinjuku bus terminal previously will greatly appreciate the new terminal's convenient location and its clearly marked signs from the train station!)
From Shinjuku Station, the bus will take approximately 1.5 -  2 hours to Kawaguchiko Station depending on the traffic. Reservations are not necessary and there is relatively frequent service (every 30-45 minutes). This will give you flexibility in case your flight into Narita or Haneda is delayed.
DIRECTIONS
Here are directions with photos to the bus terminal:
(1) Go to Shinjuku station.
(You can get there from the Narita or Haneda airports by either the JR Narita express trains, limousine buses or local trains.)
(2) Exit the train station from either the South Exit or New South Exit. Follow the yellow signs for "Shinjuku Express Bus Terminal". The bus terminal is located above the train station on the 4th floor of the building. 
Note: If you take a limousine bus from Narita or Haneda, your bus will arrive directly to this bus terminal.
PURCHASING YOUR BUS TICKET
You can purchase your bus ticket to Kawaguchiko Station at the bus terminal. There are automatic ticket vending machines as well as ticket counters. The bus schedules are displayed in various languages on the screens above the ticket counters.
The bus to Kawaguchiko will be on the screen with "To Chuo Express" displayed on it.
RESERVATIONS
Although a reservation isn't necessary, you can book bus tickets in advance from this website:
https://www.highwaybus.com/gp/foreign/frgSelectLine?lang=en
GETTING ON THE BUS
The bus departure will be announced. Your bus should depart for Kawaguchiko from gate B5 (but check your ticket just in case there are changes that day). Hop on the bus and enjoy a comfortable journey to Kawaguchiko. It takes 90-120 minutes, depending on traffic conditions. The bus will make a few restroom stops along the way.
FROM KAWAGUCHIKO TO YOUR HOTEL
Avid will be running a shuttle bus service from Kawaguchiko Station to your hotel during the daytime on Wednesday, September 21st  and on Thursday, September 22nd. (The shuttle bus schedule will be announced later.)
If you arrive early in the morning or late at night, or on days other than 9/21 and 9/22, you can take a taxi from the train station to your hotel (approximately 1000 - 2000 yen).
---
Getting to Kodomono-kuni (STY start line) will be a little bit trickier because there are very few public transportation and accommodation options available in this area.
Avid Adventures private shuttle bus:  The easiest way to make it to the STY start line is to sign up for an Avid Adventures Accommodation package as it includes a private shuttle bus that will pick you up at your hotel and take you to Kodomono-kuni in time for the STY start!!
For those not signed up for an Avid Package, there is an early morning bus service from Yagisaki to Kodomono-kuni on the morning of the race provided by a bus company (see the official UTMF race website for details/prices).
---
1) By highway bus
Highway buses run from Kawaguchiko Train Station to Shinjuku Station and Tokyo Station.
Just to give you an idea of the times, buses run every 30 minutes to 90 minutes. The earliest bus leaves Kawaguchiko at around 6:00am and the last bus leaves Kawaguchiko Train Station at 19:30 (and arrives into Tokyo at 22:26). For those staying with Avid, we will assist you in making reservations if necessary.
2) By train
You can also return to Tokyo by train from Kawaguchiko Train Station. Trains leave later than the buses but may be a bit more complicated and take more time as you'll have to make several transfers along the way.
---
In order to be able to see the "big picture", we've marked all the key places on the above Google map. Please click on the red pointers to see the area name and location. (Narita Airport, Haneda Airport, Tokyo Station, Shinjuku Station, Kawaguchiko, Kodomono-kuni, Mt. Fuji)
---
The average temperature in the Mt. Fuji area in September is 18 degrees centigrade (64F) and can go down to 15 degrees (59F) or lower at night. The average temperature in September is 23 degrees. As you will be running up in the mountains, you can expect temperatures to be colder than the average. You'll need to be well-prepared for cold weather running!!
Click on the following Excel Spreadsheet for average temperature and precipitation statistics in the Kawaguchiko area.
---
Click here for other useful links (such as the local tourism offices around the Mt. Fuji area).